Description
A retro styled, futuristic combat racing game that will have your palms sweating in minutes! Snake your way through the galaxy's finest race tracks, and charge to victory in some of the coolest ships known to man. Quick thinking and faster reactions are the order of the day. Race tactically; throw off homing missiles with decoy mines or risk the tight fast route to pull a chain-boosted lead then claim your victory from the tournament BOSS as you take him out with a Laser blast…
History
The original Delta-V Racing prototype was created in 2008 as a mobile phone game designed to run on old-school mobile phones and featured midi music and programmer art. We wanted to create a game that we ourselves would enjoy playing and, importantly, which would work well on mobile phones, with their traditionally bad input controls. Constant interruptions due to work-for-hire projects caused work to halt and the project was shelved. But we always believed in the idea, and so in 2012 we revived and focussed on the project. By then of course, mobile technology had completely changed and so we ported Delta-V Racing to run on the iPhone, using touch controls. We had a graphical and audio overhaul and the game was completed in early 2013. The iOS version was released on the 25th July 2013 and the Android version was released on the 8th July 2013.
Features
Race against the AI and friend's Ghosts in all 54 events – watch them crash and burn!
Work your way through 12 unique ships, each with different performance, defence, and loadout capabilities.
A totally original, thumping soundtrack by (UK Industrial Breakbeat legend) DeathBoy.
Cloud saving ensures you can resume your game on multiple devices.
Logo & Icon
download logo files as .zip (1MB)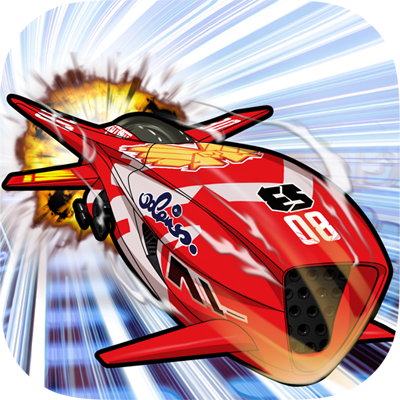 Awards & Recognition
Delta-V Racing has not received any awards or recognitions yet. Please check back later to see if things change.
Request Press Copy
Please fill in your e-mail address below and we'll get back to you as soon as a press copy is available for you.

About SPACEHOPPER STUDIOS
Boilerplate
SPACEHOPPER STUDIOS is an independent development house based in the UK. We develop software and games for all mobile devices, specialising in iOS and Android titles.
More information
More information on SPACEHOPPER STUDIOS, our logo & relevant media are available here.
Contact
presskit() by Rami Ismail (Vlambeer) - also thanks to these fine folks